I love Amazon: free prime shipping, great customer service, they have everything, I could go on forever. When it comes to Essential Oils, there are two things I really wish Amazon would improve.
TLDR: 1. Essential Oils on Amazon are often impure and not safe (even for diffusing, especially for topical use) and 2. You get better pricing and all the promotions by shopping directly from Company websites.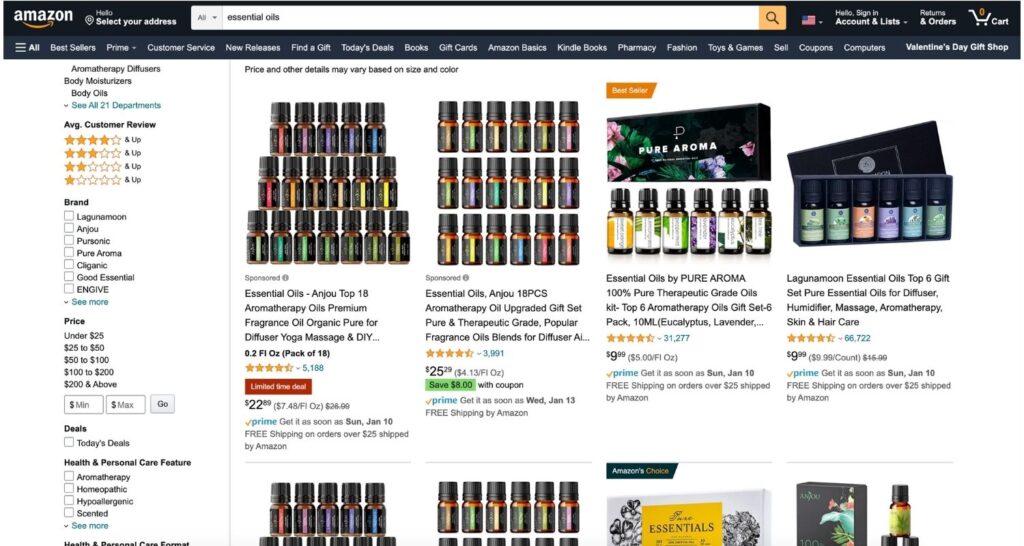 Amazon allow bad actors to sell Essential Oils on Amazon and does not verify the purity.

The amount of essential oils on their site that are fake or fraudulent is scary. I have seen test results showing one of their top sellers as fake and Amazon has not taken them down. They do have good products but the majority of the top sellers you can not verify their products through GC/MS reports/testing. This top seller even has thousands of reviews…. I don't know about you but I want to ensure what I am putting into the air and on my body isn't synthetic.

Amazon controls who shows up but they don't verify the products are good. I prefer to shop directly from essential oil companies so that I can verify I am actually getting the product (e.g., 100% lavender and not synthetic oils).

Hellooo freebies and promos. My favorite company is doing a free Immunity Boost right now which is my absolutely favorite (Cinnamon, Allspice, Clove, and Eucalyptus!) Revive has fast free shipping, free returns, great customer service, really everything you love about Amazon AND a ridiculous amount of testing on their oils all found here.

Amazon's packaging is always far too big for their products! I always get a good chuckle when I receive a box 10x bigger than my head and it has a product the size of my pinky in it.

Why do I shop Revive?
Honestly they make shopping as easy as Amazon, they have a large variety of blends and essential oils so I can get everything I need, they have tons of testing to back up their purity claims, their prices are the best! Real Lavender for $9, Kits for starting out with Essential Oils for $44. AND COUPONS. Here are the best Coupon Codes I found right now (I will update as I find more!) NEWCUSTOMER10, ROSE, IMMUNITY
What to look for in an Essential Oil Company:
1. Sourced from around the world
I want to get Essential Oils from where that plant grows best. Lavender from France, Lemon from Italy, Vetiver from Haiti. You can see where each REVIVE Essential Oil grows here: https://revive-eo.com/sourcing/
2. 5 Star ⭐⭐⭐⭐⭐ Reviews!
Read REVIVE Reviews Here.
4. 3rd-Party Tested & All Reports Posted
The Best Essential Oil companies test every Essential Oil for purity and post the Test Results online. Revive's test results are available here: https://revive-eo.com/revive-gcms-reports/.
5. Fast & Free Shipping, Great Customer Service
Like Amazon, Revive provides Fast & Free Shipping on all orders to the United States and Canada! They also have a chat you can ask any question to and it seems like they are always online!