I use Essential Oils in my home every day. I have found a few hacks to make sure I am getting the best value when I shop! I was monitoring my spending and made sure I was taking advantage of point redemption – but that wasn't enough. I couldn't purchase Rose, or use essential oils freely like I wanted. Below are the 5 ways that make me able to purchase more essential oils and not compromise on quality!
1. DIY is Your Ultimate Best Friend!
With infinite information at your fingertips, you can save money on by using cleaning hacks, DIYing hair thickening sprays, and using pure ingredients for your skin. Trust your creative self, and a little bit of the internet to use essential oils to replace products you would have typically spent money on!
The more you do it, the more you'll get the hang of it.
2. Buy Only High-Quality Essential Oils
While the goal is to save money, it should not be confused with compromising on quality. Here's why:
Poor quality essential oils don't do much apart from making you feel good about saving money initially. Make sure to do your research and only buy from companies that offer GC/MS testing of the essential oils. The one I picked after lots of research here: www.revive-eo.com
✅ 100% Pure Oils with Scientific Names
✅ GC/MS reports for every batch
✅ Supplement labels on bottles (Lemon is my favorite)
✅ Free shipping & 100 day easy peasy return policy!
✅ Easy to find my favorite blends using this handy comparison chart
3. Save Every Last Drop
By the month-end or so, I have used up bottles of lavender, lemon, and my favorite immunity boost (I found this blend after being a Thieves LOVER!). I make sure to save every last drop by placing bottles that I think are empty into a mid-sized jar and fill it up with tap water and let the bottle(s) soak in it. Then I use this water for my diffuser!
Tip: you can immerse a few empty bottles together to make your own diffuser blend recipe. You'll see traces of oil floating on top of the water and the water is ready to diffuse!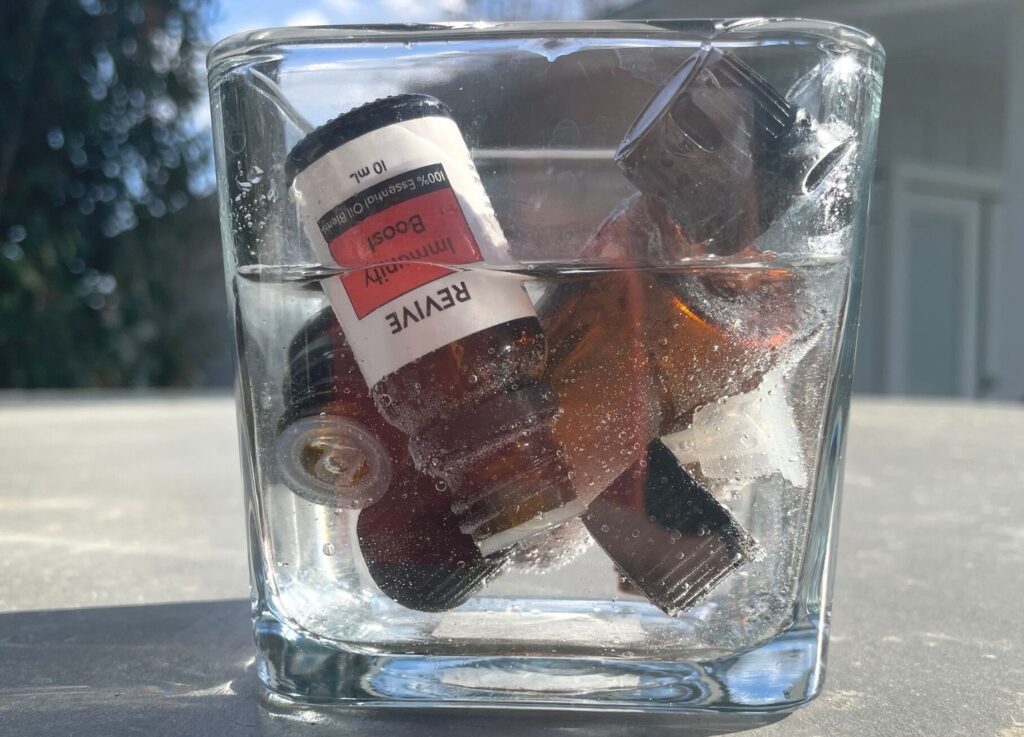 4. Buy Kits!
Kits and sets may seem like the more expensive option because you are spending more upfront, but often they are discounted by 30%.
Repeat after me: A penny saved is a penny earned for more essential oils. Smart? I know!
Bonus: Purchase in 30mL bottles. My favorite company you save 20% when doing so. Shop Savings!.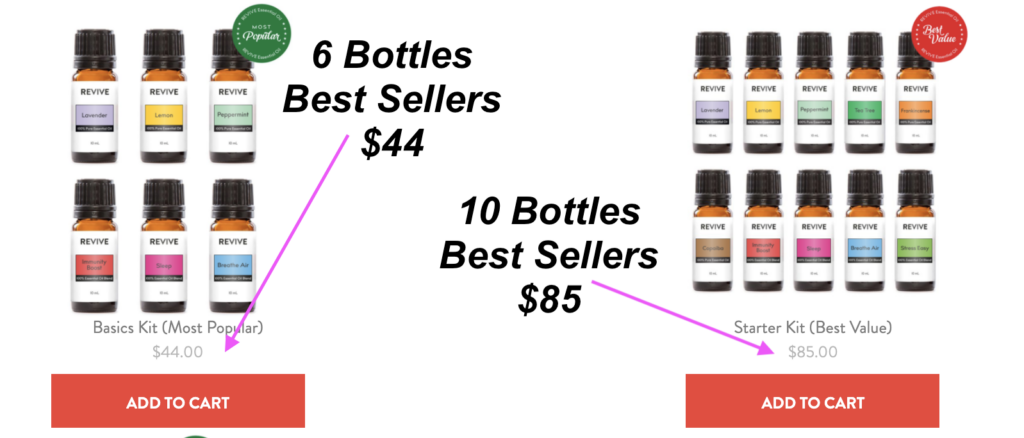 5. Carrier Oils? Oh Yes!
There are two perks of using carrier oils! It helps to prevent irritation on your skin AND it makes your essential oils last longer.
Carrier oils such as jojoba oil, fractionated coconut oil, and sweet almond oil combine splendidly with essential oils oils for direct application to the skin. Jojoba is my absolute favorite carrier oil and makes my skin feel so good!
DON'T SKIP THIS STEP
I love to save money, and I used to think I could only get quality essential oils from those big names. I was wrong! I only shop with REVIVE because they have fair pricing and provide all of the testing to prove they are 100% pure (you can't find that on Amazon or other bargain sites).
Before I switched brands I did a lot of research about how to tell an essential oil company is pure and good. And boy my wallet is happy now! Making sure to shop with a quality essential oil store is very important – lots of oils can be blended with synthetic fragrances that may smell good but they won't make you feel good.
There is no need to give up on essential oils just because they are expensive. Their health benefits outweigh the costs. All you need is a little creativity, some cost management, and a commitment to these amazing oils!